The name of the restaurant is a real tribute to one of Bécaud's songs released in 1963. It relates the sulfurous past of Montmartre and the adventures of the infamous Tantes Jeanne – prostitutes in the early 60s. Their names are now engraved in Montmartre's memories and Paris' history.
Not far from the Moulin Rouge, close by the animated life of Pigalle and the scenic Rue des Abbesses, it's in the heart of the Butte Montmartre that the restaurant Les Tantes Jeanne has settled down.
Influenced by the rich cultural et historical heritage of the area, Les Tantes Jeanne translates a singular artistic touch in the elegant and fine plates as well as on the walls of the establishment, covered in works by Miro and Bacon, among others.
Built around a strong philosophy, the restaurant always tries to reach perfection and to constantly improve its services. The teams' main goals are to initiate and surprise the guests with new tastes, to share and convey a special "savoir-faire" in every plate, and to sublime the product and its raw quality.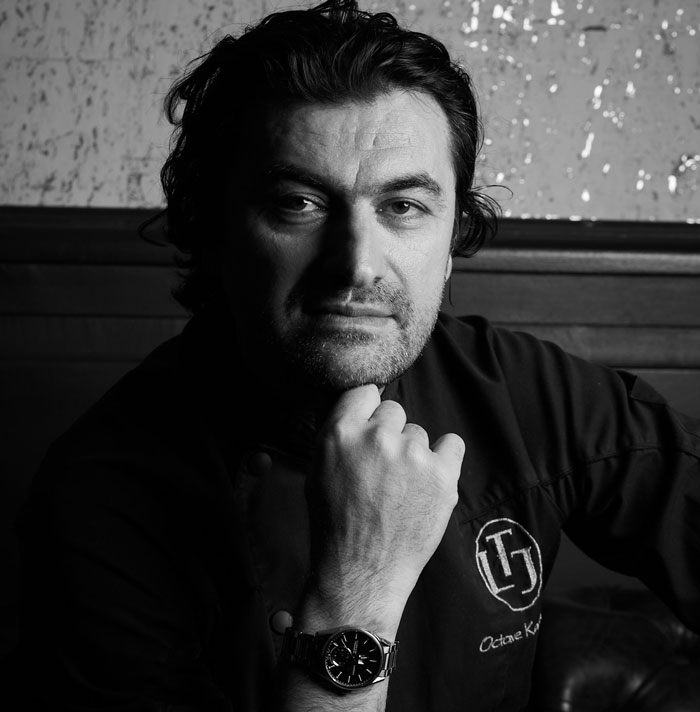 Kurd by birth, Octave Kasakolu arrived in France at 13 and started his journey in the culinary world.
Inspired by his mother and grandmother's cooking and animated by a powerful culinary culture in his home country – Turkey – he quickly forged his own identity and made perfection his ultimate goal.
Formed by famous chefs in prestigious establishments, Octave learned the rules and values of the French Gastronomy and created his own personal way to sublime the product and to highlight its natural flavors.
Today, he selects his suppliers and chooses himself the products cautiously and consciously to offer balanced and elegant dishes to his guests.